Studio / Venue
An open plan space for multimedia productions, photoshoots, and events.
The photo studio / event venue is approximately 79 m² (850 ft²) and is split into 4 zones: the open area, living area, kitchen area, and a back room.
A short walk from Kennedy Town MTR Station, workshop ten is a peaceful contrast to the city with verdant views of Mount Davis. Natural light streams through the row of windows with an unobstructed view of greenery, at the same time the bright white walls offer a neutral canvas.
The living space is cozy with mid-century modern furniture, providing ample seating to comfortably fit 10 people.
Our venue is available for hire for photo or video shoots, and events such as music jam sessions, friendly gatherings, team building events or food tastings. There is a maximum standing capacity of 40 people.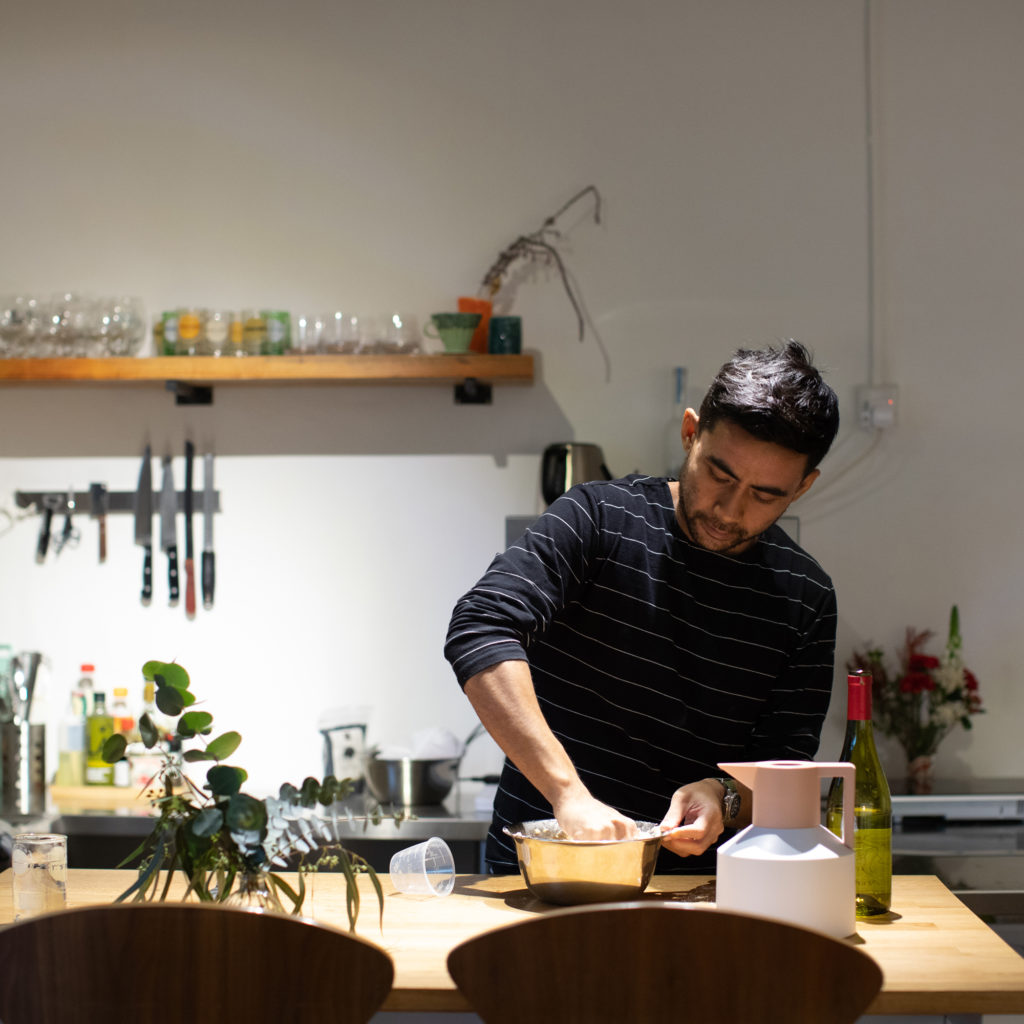 photo studio
Our space as a photography studio provides full flexibility for different creative needs.
The living space opens up to the south-facing windows, which allow for shooting with natural light while utilizing lifestyle textures. Wood, leather, and cotton are the main natural materials carefully curated for the space; in addition, fabrics, tiles, and materials are available upon request.
For photographers who prefer to shoot with more control, blackout curtains can block sunlight for you to utilize studio strobes for lighting. The space fits a full width 2.7m backdrop, and we also have a work table and materials for commercial product photography.
event venue
With a maximum standing capacity of 40 people and complete with a kitchen and private bathroom, workshop ten has endless possibilities for event rentals.
The location is a breath of fresh air for corporate off-site meetings, workshops, and coaching sessions with its inspiring, chic vibe.
workshop ten is also the perfect space for press previews and brand launches, with a kitchen ready to serve refreshments. In addition, blank gallery walls allow each brand to incorporate its own identity into our warm space.
equipment
Profoto professional lighting equipment:

4 x Profoto D2 1000W
Air Remote

Profoto light modifiers:

OCF 5′ Octobox
OCF Zoom Reflector
OCF Softbox 2×3′
OCF Softbox 1×4′

LED video lights: 4 x Aputure LS-mini20d
Rolls of 2.7m Superior Seamless Paper

(White, Grey, Black, Forsythia Yellow, Carnation Pink, Flame, Deep Green)

Light Stands
2 x C-Stands
Backdrop Stands
V-flats
amenities
cargo loading garage with free drop-off
2 x cargo lifts
1 x passenger lift
full kitchen (induction cook tops, 22L oven, 315L fridge)
in-unit bathroom
clothing rack and steamer
full-length mirror
Wi-Fi with optical fiber connection
renting for a private shoot?
got an event / commercial production?